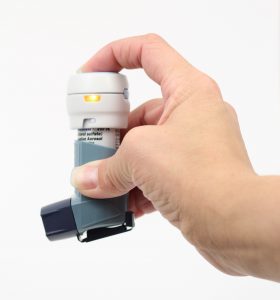 I was glad to hear that Asthmapolis recently received venture funding.  They have developed a very simple but clever device that attaches to pretty much any inhaler and logs the time, date and location of each puff.  Tracking when and where each puff occurs allows people that suffer from asthma to track triggers and irritants and learn about their specific symptoms over time.
Asthmapolis is a simple wireless pressure sensor that syncs with a smartphone using Bluetooth.  Once the sensor is paired with the phone, the Asthmapolis app automatically captures data from the sensor when it's used.   The app uses the phone's GPS and time keeping features to log information about location, date and time.  That information gets translated into maps, trends and logs that are easy to understand by the consumer/patient and gives them personalized feedback.  Patients can elect to share their data with family members and their physician, allowing for an objective assessment of  how well controlled the condition is.  In the future, patient data can be aggregated with environmental and atmospheric data to give authorities and health care professionals a broader picture of what to expect when high levels of pollen or other environmental triggers have been detected.
Asthmapolis is a great example of how a simple connected sensor can make a real difference in monitoring adherence and treatment of a chronic condition that affects 26 million Americans.