LinkedObjects Products & Services
LinkedObjects Cloud Services
LinkedObjects Device Cloud is a platform-as-a-service that provides the infrastructure, scalability, reliability, performance and security you need to connect your products to your Consumers.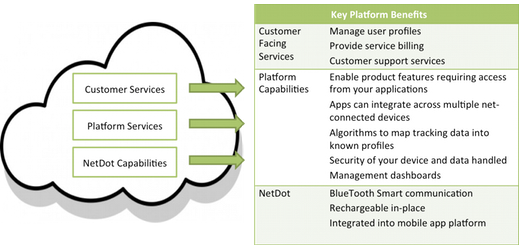 Avoid upfront expenditures -- Scale with your business: Deploying connected products involves a significant learning curve for any organization. Using our cloud services dramatically lowers your upfront development costs. As you scale, your service scales without any additional effort on your part.
Hassle free software updates and new feature roll-outs: Your market already faces a competitive technology environment. Let us make sure that your connected products are always up to date with the latest software revisions. As we add features and capabilities, you get those without facing the issues of executing complex and costly product rollovers.
Customer Services allow subscription billing: Unlike typical hardware products where the products revenue is captured at time of sale, connected products cab enjoy an ongoing revenue stream as well as facilitate a direct customer relationship. You and your brand benefit greatly. But making this work involves subscription sales, monthly billing and customer support. We can help!
NetDot Device Cloud Sensors
NetDots allow you to embed wireless motion and tracking sensors easily into your products. In conjunction with our LinkedObjects predictive algorithms, you can make your clothing measure their wearers, your sporting gear provide feedback, or even your healthcare products track their users.
Get to market fast with wearable and embedded sensor products: Our small wireless sensors are low-cost and designed for long-battery life. Dramatically increase the capability of your products through measuring and tracking both the participant or the products they are using. Our NetDot is completely water proof and designed to be embedded.
Save money on development and deployment: As with our Device Cloud, NetDots are self-contained platforms that give you the opportunity to embedded them in anything and everything. Incorporate them into your products without the need to utilize complex embedded systems design experts.
Unique design solves the "recharging problem": And here's the secret sauce. We made our NetDot to be rechargeable in place. Wow!