Strategy Services
Digital Transformation
The new world of smart, connected devices represents a sea of change in the fundamental dynamics of competition.
Vision of transformation: LinkedObjects works with the management team to understand what digital levers are available to transform the business and take advantage of the intrinsic fly-wheel that develops with larger data sets, AI and IoT.
Update Company Strategy: Define new business targets (KPIs) that define specific expectations of digital value creation.
Anticipate Future Disruptions: Understanding the customer and technological effects of competition that can create a better product at a lower cost. "What if" analysis to break out-of-the box and reallocate investment in future technological efforts. Roadmap realignment.
Novel Business Models: Selling products isn't enough to survive. Taking advantage of larger and larger data sets, ubiquitous connectivity, machine learning/AI and cloud and edge computing will open up new ways to make money and stay competitive while being keenly aware of customer demands and expectations.
Put Plan into Action: Operationalize the new strategy. Understand the people, process and purpose that are essential ingredients for success. Use a lean process to get there - build, measure, improve - iterrate.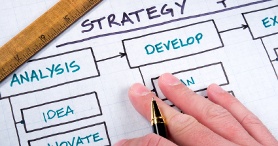 Concept Evaluation
This phase typically involves market analysis of customers, competing products, technologies and ecosystems.
Customer Needs Analysis: LinkedObjects leverages secondary research and conducts primary research to develop both quantitative and qualitative understandings of customer expectations and needs supporting product and service offers, and through this determines those key customer events that affect customer satisfaction. Product development tradeoff decisions are driven by a detailed understanding of product attribute priorities based on customer segments.
Competitive Analysis: Detailed research into competitive products and services, understanding their strengths and weakness relative to all aspects of your business model.
Markets, Segments, and Ecosystem Analysis: Size the market opportunity, characterize the the product category, and define the value proposition and position for your offerings within that competitive context and potential partnership space.
Business Case for the product concept: Develop a detailed and robust model of revenues, cash flows, investments and returns for executive decision-making. Incorporate 3-5 year revenue, cash flow, and investment horizons.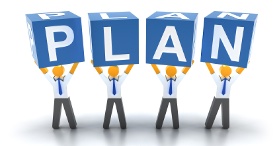 Product specification and planning
This phase involves detailing specific requirements to meet the target customer's needs.
Product Strategy & Roadmap Planning: Based on market needs and organizational capabilities, developed a detailed product specification for the product. Prioritize requirements and construct a roadmap for needs to be meet in future product versions.
Technical and Operational Assessment: Identify major internal challenges and issues, including tools, processes, changes to current operations. Identify external resources to fill gaps or accelerate development.
Milestone planning Map product goals into detailed timeframe with key checkpoints for Design Objectives, Investigation phase, Design phase, Manufacturing/Code release, and Launch. LinkedObject help your team developed an actionable and accountable path to launch.
Beta test plan and execution: Customers must be involved at every step of your evaluation and design process. Managing an effective customer-feedback process, resulting in a customer beta program prior to the product launch requires deliberate planning and starts early.
Go-to-market
This phase typically involves determining the correct product channel and launch activities necessary to drive customer demand.
Marketing Strategy: Demand generation for your products begins with creating product awareness of your product's key benefits. Translate the core value proposition into key messages targeting your customer segment. Define product branding and ensure alignment with existing offerings.
Competitive Positioning: Establish clear points of differentiation relative to current and emerging competitors. Develop tactics to communicate those succinctly.
Pricing, Bundling and Packaging: Product value is often first communicated to your customer through the product or service's price, specific bundling tactics, and display packaging.
Awareness creation: A large part of any marketing program (and budget) is devoted to making customers aware of your offering and benefits. Today's options are large, but all such tactics fall back on a few basic considerations.
Channel & Distribution: Whether direct to an end-user, or indirect through channel partners, how you chose to reach your customers will determine your sales success, as well as your ability to cost-effectively scale the business.

Business capital formation
This phase typically involves the following steps.
Capital Strategy & Valuation Justification: Provide assistance in developing realistic near- and long-term capitalization strategy that supports the business model and maximizes founder and investor equity holdings relative to industry norms and expected returns.
Fund Raising Preparation: Provide assistance in preparing to identify potential investors, articulate business potential, and address typical questions.
Investment & Due Diligence Profiling: Conduct a due diligence and operational assessment of potential investments and acquisitions. Onsite assessment of employees, executives, and business model with a detailed data based report that highlights strengths, weaknesses and recommendations as to how to move forward.